NWYFL League Cup Quarter Finals on the horizon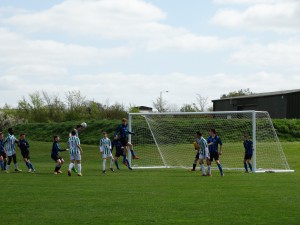 This weekend saw the vast majority of 2nd round matches take place as the NWYFL League Cup heads towards the Quarter Finals.
U12's: Purton, Croft Red and Shrivenham & Watchfield booked their place in the final 8, alongside 3 teams still flying the flag for Division Two; Purton, FC Chippenham Blue & Pewsey Vale. Liden Community Green could make that 4 when they take on Swindon Supermarine J next weekend, whilst on the same day Highworth Town Juniors T & FC Calne will battle for the final spot.
U13's: Two sides remain in the competition from Division Two, with Avonvale and Castle Combe Colts heading into the Quarters. They will be accompanied by Croft Junior Red, Highworth Town Juniors T, Wanborough Juniors, Wootton Bassett Town Blue, Wickham Wanderers and Liden Community White.
U14's: Just one tie remains outstanding with Castle Combe Colts taking on Lydiard Millicent Youth next weekend, hoping to be the other surviving team outside the top tier alongside Chippenham Town Youth. They will be joined by FC Chippenham Youth, Stratton Juniors Pumas, Northside Athletic, Swindon Youth, Greenmeadow and Highworth Town H
U15's: An even balance of sides from Divisions One and Two make up the final 8 who'll be in this week's Quarter Final draw, with Malmesbury Youth, Lydiard Millicent Juniors, Castle Combe Colts & Robins representing Division Two, whilst Swindon Rangers, Swindon Supermarine L, Croft Junior Red and Wootton Bassett Town Blue all surviving from Division One.
U16's: FC Calne Rovers stand proud as a surviving club from Division Three, however could be joined by Highworth Town T, should they defeat Stratton Youth next weekend. Fairford Town ensure that Division Two will still be present in the competition and join Division One sides Wroughton, Stanley Park, Croft Junior Red, Kings Stanley & Wootton Bassett Town Blue.
U17/U18's: Ramsbury needed penalties to ensure they were the sole representative from Division 3 to go into this week's draw. They will be joined by 3 sides from Division Two, Shrivenham & Watchfield, Avonvale United & Highworth Town Juniors H. From Division One, 4 sides remain with Fairford Town, Swindon Supermarine, Hungerford Town and Wootton Bassett Town Blue taking the final places in this year's Quarter Finals.
The draw for the Quarter Finals is due to take place on Monday 2nd November with the matches taking place on Sunday 29th November. Full details of the draw will appear on the web page as soon as possible.