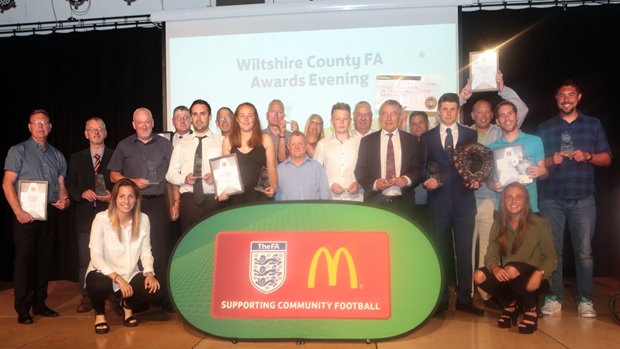 Committee members from the Swindon-based North Wilts Youth Football League were delighted when their name was announced as winners of a prestigious County FA award which was presented at a glittering ceremony held at Trowbridge Town Hall.
League Chairman Andy Ratcliffe said 'we're all absolutely thrilled with this award. We support this event every year as it's a great chance for grassroots football leagues and officials to get together. We didn't expect to win anything, but when the North Wilts League name was read out we were all a bit shocked to be honest.
The North Wilts league plays host to around 5000 youngsters throughout the area and now has over 400 teams competing in grassroots football every weekend.
'It's great to receive an award such as this because it means that we're doing something right. We have a very professional, determined management committee that have worked incredibly hard, and all that hard work is now paying off.
'When we sat back down at the table after picking up the award there were smiles all round and its moments such as that that makes everything worth the effort. '
'We're constantly looking at ways to enhance and improve the grassroots football experience for our member clubs and it's fantastic that this league is now attracting interest and plaudits such as this award from the County Football Association.'
'We have a really open and transparent way of operating the league which the clubs seem to welcome. That in turn allows them to provide a brilliant and varied grassroots football experience for so many youngsters throughout the area.'
Ratcliffe also paid tribute to the unswerving support the league receives from the Dorcan-based Wiltshire County football association:
'The guys over at Wiltshire FA provide us with continual support which is greatly appreciated. Without their goodwill, patience and support, we'd probably struggle to be as successful as we are.
Like ourselves, They've gone through a lot of changes in the last few years, but also like us, they've come through it and are much stronger for the experience'
The McDonalds sponsored Charter Standard League award is presented annually.