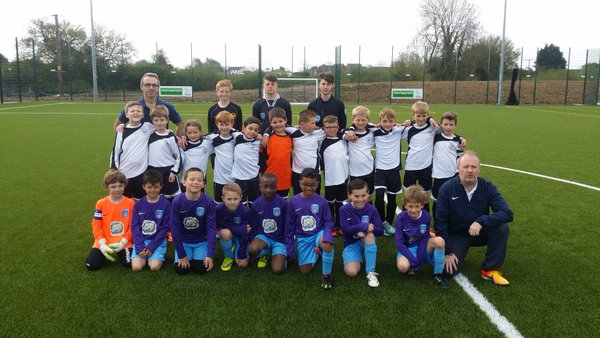 U9 & U10 Cup Finals & U11's Consolation(Supplementary) Cup
Many thanks to all involved in this event. Becky and the team were superb and the venue was brilliant. The good weather certainly helped. Thanks to Jeff Youd photography, having a professional photographer really helps and the photo's will be available on his website, I have seen some of them and they are excelllent. If you look at Jeff's page at jeffyoudphotography.co.uk.
The U9's Red Cup saw Hungerford White beat Abbeymead Tigers. Abbeymeads player Tijan Jagne was given the Player of the Match award.
U10's Red Cup was a tight affair with South Cerney just edging it in the end. Some great performances by players with Corey Whatcott(Ferndale) deserving a mention but the Player of the Match was Daniel Prusick.
The U9's Blue Cup saw two of the best teams meeting in the final, with Robins Red running out winners against Greenmeadow City. Many good performances from both sets of players but Matty Dixon picked up the Player of the Match award.
U10's Blue Cup was a game that saw both team demostrate defending of the highest level. Both Chippenham Spartans and Newbury Red were superb. Chippenham eventually secured the Cup in extra time and Sam West picked up the Player of the Match with a goalkeeping performance of great note, we wish him luck in the future.
U9's Purple Cup was a goal fest with 11 goals shared between both teams. Calne Galaxy ran out winners against Supermarine and Rhys Simpkins was given the Player of the Match award.
U10's Purple Cup had Lydiard Irons take on Blunsdon and plenty of goals in this final also. Lydiard picked up the Cup and Ben Payne took the Player of the Match award.
U11's Consolation(Supplementary) Cup, this promised to be a tight affair with two very good teams meeting. The first few minutes saw both teams cautious. However, Malmesbury continued their good form from the season and grabbed a couple of goals. Ferndale never gave in and kept trying hard but the Malmesbury keeper was in fine form. The Malmesbury forward line deserve a special mention as they played superbly together and demonstrated excellent working relationship. The Player of the Match and hatrick hero was Owen Kehoe.