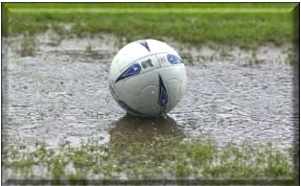 Following the excessive wet weather experienced through December, January and February which resulted in the vast majority of fixtures being postponed, the League Fixture Secretaries have been busy rearranging the fixture lists.  In some divisions we have now run out of available Sundays, so scheduling has started for midweek matches. This article will cover a little detail specifically around those particular games.
But first, to explain 2 weekends where the fixture list is currently light: March 13th and the May 22nd. Both of these dates are reserved for League Cup matches (semi final and finals) and both need triple the number of referee's than normal. The March event will see around 36 officials covering 12 matches whilst May will involve approx 21 officials. Once the league have allocated the officials to these matches and understand how many other referees are available (bear in mind several of the younger referees will be involved in matches on these dates too) expect to see a number of fixtures created based on priority (how far behind that division is with their fixtures).
In relation to matches that are rearranged for a midweek, the league takes the following view on the scheduling:
the fixture will take place on the date/time scheduled
any change to these details (date or kick off time) must be done in agreement with the opposition
the fixture secretary must still approve the change and will do so based on all other fixture scheduling considerations
To be clear, if a team cannot play the fixture on the date set, you will need to get approval from the opposition to move the fixture. The purpose of this stance is for the league to avoid being in a situation whereby they are constantly changing the fixture because one or the other cannot make a revised date. Agreement between the 2 sides is imperative for any change.
To help manage midweek travel, the Fixture Secretaries will try to pair teams who play in close proximity with each other. For example, Broad Town and FC Calne both play at Beversbrook, so that would be a candidate for a midweek match. This isn't always possible, but the team will try where possible to ease pressure by operating this process.
One last clarification, the season is due to finish on Tuesday 31st May. Fixture secretaries will hold back from arranging fixtures on Sunday 29th May, especially in divisions where a play off may be required to settle placements, as any postponement on that date will make it difficult to close the season. As we continue through the season, we will continue to pulse this and send communications directly to clubs in divisions where this may be a problem.
Thank you for your understanding and support concerning this challenge.