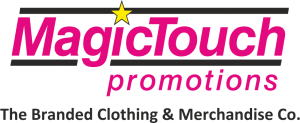 The NWYFL are pleased to announce an agreement with MagicTouch Promotions Ltd, to become official sponsors of the Annual NWYFL Respect & Sportsmanship awards.  These awards will replace those previously awarded at the League Annual General Meeting, will recognise outstanding act of sportsmanship displayed within the competitive age categories (U12-U18). Further details concerning how these recognitions will be determined, will be posted to Club Secretaries and Team Coaches shortly. The presentation of these trophies will now take place at the League Annual Presentations on Sunday, June 30th.
In addition, MagicTouch have also agreed to become the official provider of the clothing for the NWYFL committee.
MagicTouch Promotions Ltd. is a local business, based in The Spectrum Building, Swindon, and has been producing promotional merchandise and branded clothing since 1998.  They offer a quality personal service and can personalise all of their garments with in house embroidery and printing services.
MagicTouch's customers range from large blue chip companies to local builders merchants, with orders ranging from 10,000 branded polo shirts to 100 branded ballpens. There is no minimum order requirement and their catalogue of products covers a wide range of workwear, leisurewear, footwear and promotional merchandise.
The company is very supportive of grassroots football in Wiltshire, and is the provider of kits to a number of teams playing in the NWYFL, as well sponsors of 'Goal of the Month' competitions, run by Your Sport Swindon.  League Secretaries will have an opportunity to meet the MagicTouch team and take a look at their products first hand during the AGM scheduled for Thursday June 20th. In the meantime, please feel free to view their website to view the full range of merchandise:
http://magictouchpromotions.com/
The League would like to thank MagicTouch Promotions Ltd. for their partnership and generosity, in particular to Managing Director John Jolly and Dave Herbert, for their support and look forward to working with them during the course of the next 3 seasons.