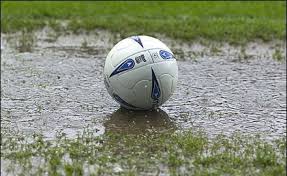 The wet weather has truly arrived with postponements flooding in since early December. This presents obvious challenges to the Fixture Secretaries as they struggle to find enough available Sunday's in the season before reluctantly having to utilize Saturday's and midweeks.
To help the Fixture Secretaries manage the backlog, we request that clubs help to ensure games are played as per schedule if at all possible. One way in which teams can help achieve this is by looking to switch the location of  the fixture if the opposition have access to a playable pitch. Many teams have yet to play each other once, let alone the return fixture, so we highly encourage managers to look at reversing as an alternative before postponing the game. We'd suggest that when confirming the details of your fixture with the opposing coach, check on the availability of their pitch as a potential contingency plan.
Switching venue should also be considered even if your team has already played the opposition away this season. We would suggest coming to an agreement over the pitch hire costs between yourselves (the home team could pay the original away side for use of their pitch) in the best interests of getting games played.
It should be noted that should a particular venue continue to be unplayable on a regular basis (more often than other venues) the Fixtures Secretaries do have the autonomy to move fixtures from that location to an alternative (such as the opponents ground) to help move fixtures along, as per the league rules.
Finally, if your team does have the benefit of playing or accessing a pitch which has floodlights, please consider switching some games to an evening kick off over the next couple of weeks. Just contact any of your remaining opponents and try to agree a date, before informing your Fixture Secretary who will be glad to make the update in Full Time.
Thank in advance for any help/support you can provide as we continue to battle against the elements.