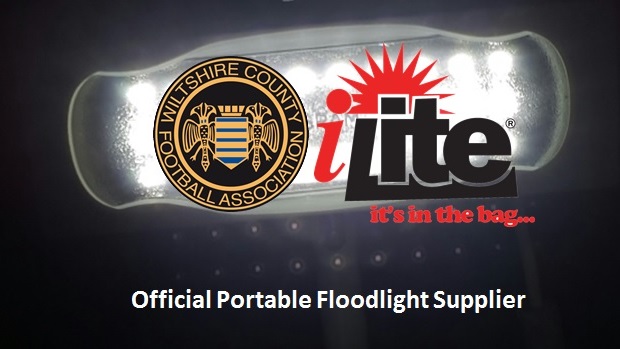 We (Wilts FA) are delighted to announce a partnership agreement with Phoenix Sporting Goods that will see them become the official Portable Floodlight Supplier of Wiltshire County FA.
The initial 3-year agreement will see opportunities for grassroots clubs in the County to purchase portable floodlights in order to aid with their team training requirements.
The iLite Metal has several height settings from 3ft to 12.5ft, which makes it a very flexible, efficient and cost effective solution to illuminating sports pitches. The non-toxic and environmentally friendly LED light is designed for greater durability and reliability and provides 3000 lumens of light, whilst the 12v rechargeable battery provides over 3 hours of continuous light when fully charged. Easily transportable and erected in seconds, the iLite Metal is the ideal portable lighting solution with eight units required to illuminate a 60 x 40-yard pitch.
Wiltshire County FA Football Development Manager, Mark Young says "We are delighted to be entering into a partnership with Phoenix Sporting Goods as our Official Portable Floodlight supplier, and we are hopeful this this will help to some member clubs with their winter training programmes. We are committed to finding affordable methods and portable floodlights can offer an opportunity if used correctly".
Dan Smith, Grass Roots Account Manager at Phoenix Sporting Goods said: "Phoenix Sporting Goods are delighted to be appointed the 'Official Portable Floodlight Supplier' to the Wilshire County FA.
"We look forward to working with everyone involved over the next 3 years to provide cost effective and efficient portable floodlights to aid the development of clubs and their players."
The iLite Metal retails at £400 per unit, however we are offering a 25% discount on any purchases of 6 units or more during our demonstration evenings with Wiltshire County FA which are starting in December 2016.
Demonstration Evenings
Tuesday 13th December, commencing 6pm at Laverstock & Ford FC, Church Rd, Laverstock, Salisbury SP1 1QX
Tuesday 20th December, commencing 6pm at Ashton Keynes FC, High Road Sports Field, Ashton Keynes, SN6 6NX
To book your place on either of these demonstration evenings and hear about funding opportunities towards portable floodlights, or to register interest in hosting a demonstration evening at your club, contact Mark Young, Football Development Manager via Mark.Young@WiltshireFA.com / 01793 486047
Read more at http://www.wiltshirefa.com/news/2016/nov/phoenix-sporting-goods-portable-floodlight-partnership-launched#7cYHmHh2vOS4CcxK.99