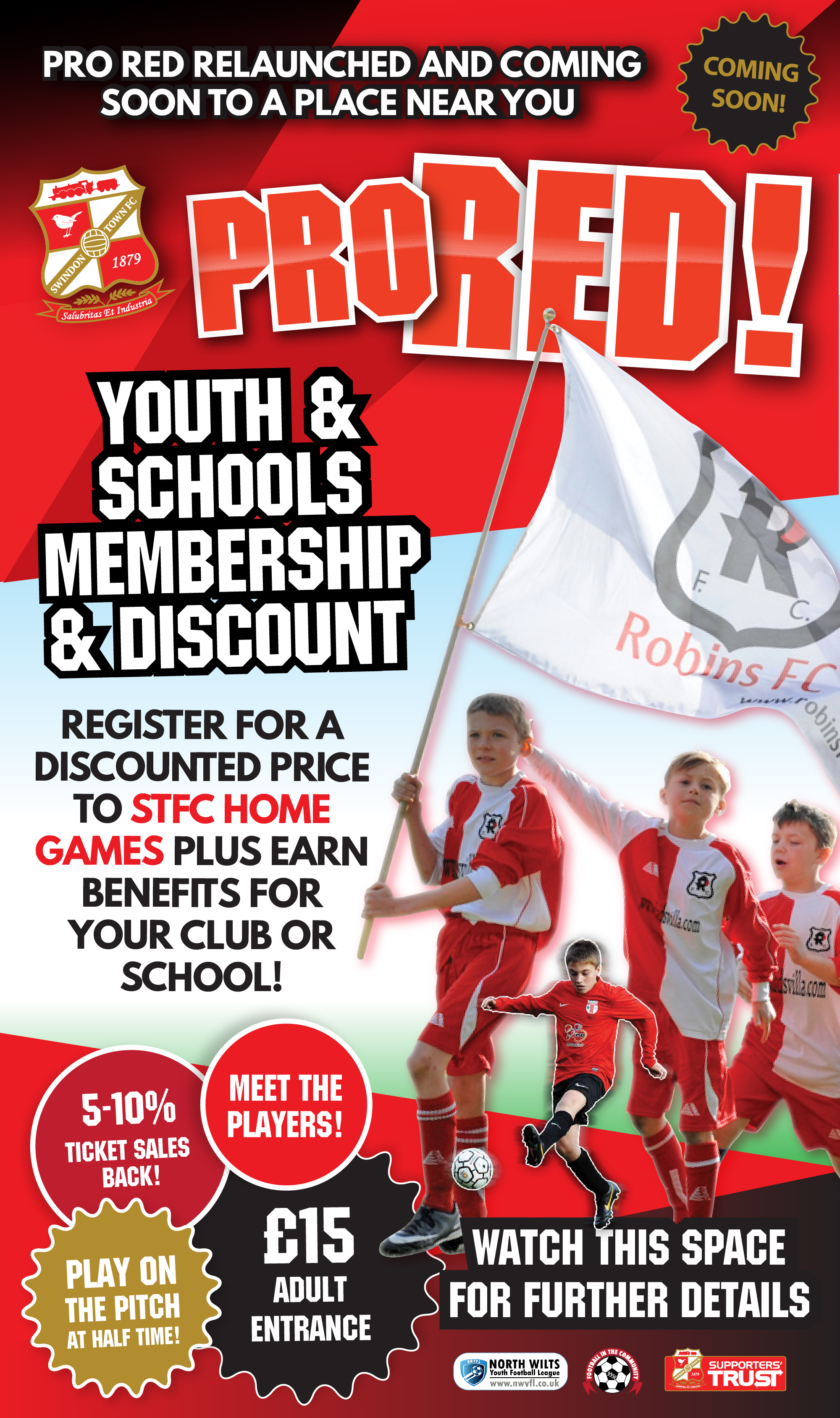 The NWYFL are pleased to announce the backing of the Swindon Town FC 'Pro Red Scheme' to the benefit of players, parents, coaches and committee members of clubs affiliated to the league. The scheme offers:
The cheapest tickets available

for children and adults to watch Swindon Town FC league matches (£15 adult, £10 +65, £10 U/21, £8 U/18, £2 U/11's)

Financial rewards for clubs

who's members reach certain ticket threasholds over the course the season
An opportunity to be part of the

match day pitch side experience

for clubs who manage to hit the very top target
Here are some of your questions answered…..
What to do first? The first thing to do is register your details and receive a membership number, There is no cost associated to registering.
Where to register? visit www.learnaboutstfc.co.uk/pro-red/   Scroll to the bottom of the screen and complete the form for each person being enrolled (player, parent, committee member). Don't forget to select your club to ensure your team gets a rebate if overall orders exceed the threasholds
What's next? You'll receive a welcome email from Swindon Town FC followed by confirmation of your membership number. You are now ready to buy tickets.
Where to buy from? Purchase tickets online via www.stfc.co.uk    Visit the ticketing section when match tickets are available to buy, select which area in the ground you want and then select the 'Pro Red' prices.
Are there limits? Yes, 2 adults and 3 children per Pro Red member. Full price tickets can be purchased for those in need of more.
How does my club receive money back? If the number of tickets purchased by your club members exceeds 50 for the season, the club receive a 5% reimbursement. If the total number exceeds 100, the club receives a 10% reimbursement.
How do we get on the pitch? Clubs who total ticket purchases exceed 100 during the course of the season, will be invited to have a match day experience which will include getting on the pitch. In addition, you'll get a Q&A with a player or 2, a signed Swindon Town shirt given to the club and player ambassador assigned to your club.
How do I get more info and when are tickets on sale: The fixture list has just been published, so tickets should be available from late July, typically 4 weeks before each match. However for more information contact Jason McGinley (jason.mcginley@stfc.co.uk).