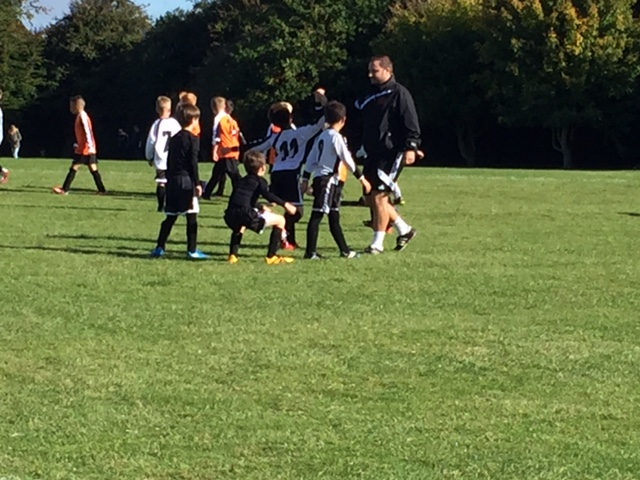 Under 12 Division 1
Bishops Canning 0    Ashton Keynes 9
Bishops Canning and Ashton Keynes met for the second time in a week and despite some good play from Bishops, Ashton Keynes ran out 9-0 winners with goals from Samuel Hughes [3], Scott Dodson [2], Jaden Wilkins, Nicholas Winrow and Alfie Staynings, with an own goal completing the scoring. In defence Callum Fowler capped another fine display.
Under 12 Division 4
Wroughton White 1     Royal Wootton Bassett Town 2
A match which was played in the correct spirit and enjoyed by all who watched and participated. Royal Wootton Bassett Yellows came out on top of this game where both teams created numerous chances, Wroughton going close on many occasions and the Yellows also hitting the woodwork 3 times. But goals from Callum King in the first half and then an individual goal by Thomas Morrisey was enough to give the Blues a 2-0 leade, before Wroughton pulled one back late on to set up a grandstand finish.
Under 15 Division 1
Lydiard Millicent 3      Northside Athletic 4
Northside kept there unbeaten record after a enthralling game against a very good Lydiard side. Brandon Lewis scored for Northside but Lydiard then scored 2 goals just before half time. The 2nd half was the Jo Cameron show who scored a hat trick for Northside in 15 minutes. Lydiard never gave up and scored a late goal. Cory Macastocker was superb for Northside
Under 15 Division 2
Northside Athletic 4       Ferndale Rodbourne 3
Northside Athletic beat unbeaten Ferndale Rodbourne and league leaders in a very entertaining game. Ferndale scored first before Ethan Ollier made it 1-1 at half time. Corey Adams then scored from a acute angle before Ferndale made it all square. Northside then scored 2 quick goals through Hilario Williams and Calum Lansley before Fernale scored from a penalty late on. Good performances from both Goalkeepers and Tyler Hammick for Northside
Under 16 Division 1
Robins 2       Ferndale Rodbourne YCFC 4
Ferndale Rodbourne's visit to Robins saw a true game of two halves. Ferndale struggled to find their recent form to gain any kind of foothold in the game as Robins were first to a majority of the loose balls through a greater desire and determination and showed great effort in closing their opponents down when in possession allowing them to open up a two goal advantage and reducing Ferndale to half chances. Ferndale came out in the second half looking a rejuvenated team, quickly upping the tempo and matching their opponents desire as they set about the task of reducing the deficit from the first half. Their first came when a Bailey Gallagher free kick was delivered deep to the back post for Harris Yousaf to head in to the back of the net. Max Duggan levelled the score after being played through by James White. An excellent, difficult to defend cross right across the face of goal from Jacob Edwards-Brown enabled Kamran Muhid to react quickest and steer the ball beyond the Robins goalkeeper from close range and Ferndale completed the scoring when Ferndale's Player of the Match, Callum Barrett rode a heavy challenge near the edge of the penalty area and, with advantage played, Brandon Page collected the loose ball and went beyond his marker and placed it into the back of the net. Robins weren't without their chances but these were noticeably fewer than the first half. They did, however, very nearly get a goal back when the ball was cut back from the goal line during a rare defensive mix up that would have enabled a simple tap in; had it not been for the outstretched arm of Ferndale goalkeeper Kyle Meader-Harris who somehow managed to, one handed, prevent the ball from going beyond him.
Under 16 Division 2
Ferndale Rodbourne Colts 2     Swindon Supermarine G 2
Ferndale secured a point in an entertaining draw with league leaders Supermarine. An excellent passing move ended with Lucas Peachey providing a great cross for Noah Howell to power home a header for a 1-0 half time lead. After Supermarine had equalised, man of the match Ben Simons scored a superb 25 yard volley in the 86th minute to give Ferndale the lead however having had to substitute their goalkeeper due to injury a 90th minute error allowed Supermarine to equalise.
Under 17 Division 2
Croft Junior U17 0       Ashton Keynes 2
In what was a tight match, both teams were determined to come out with a result. With Ashton spending a lot of the match showing their defensive discipline but also making the most of their opportunities when they got forward. Croft came close on a few occasions but were kept out by a impressive Goalkeeping display by Ashton's Greg Griffin. a composed Ashton midfield started to work their magic getting the ball down and working it to the wings which created the first goal. Harrison Grisley broke down the left only to be brought down in the Croft penalty area. Charlie Cook calmly stepped up and slotted into the bottom left! with the score 1-0 at the break both teams came out raring to go in the second half. Croft mounted attack after attack with no success and the next goal came when Lee Plaistow broke down the right, burst past the Croft full back and slotted into the far corner. MOM, Ed Fish, For a outstanding defensive display.