Weekly Roundup: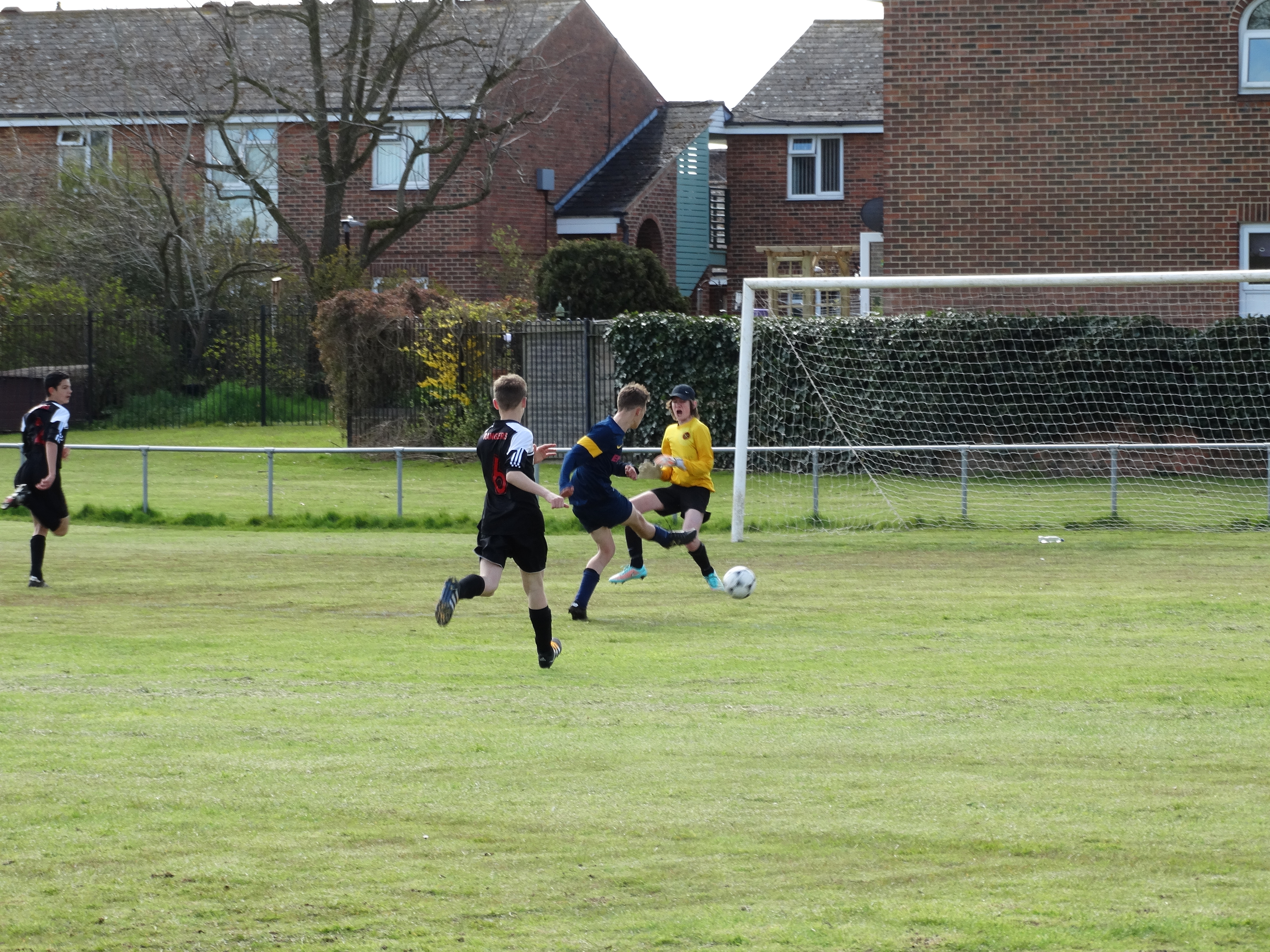 Declan Mcstravik puts Broad Town Colts U15 in the lead:
Under 13 – Division 1
Wroughton Youth 5                       Wanborough Juniors 2
Wroughton played brighter from the outset and surprised Wanborough but Finn Blunsdon managed to put two goals past the Wroughton keeper as a consolation. A deserved win for Wroughton.
Under 14 – Division 1
Highworth Town Juniors H 4        Swindon Youth 0
Highworth finished the season in style with a hard fought win against a very organised and resolute Swindon Youth who had to play with only 10 players. Having sealed the league title earlier in the week, Highworth took the lead in the second half via a fortunate own goal. The goal lifted the whole team and further goals from Brandon Lewis, Jack Hulbert and a stunner from Jack Paines wrapped up the points.
Under 15 – Division 1
Swindon Rangers 2                        Broad Town Colts 1
A very high standard match was played out on Sunday between Rangers and Colts. Broad Town definitely had the better of the first half and went in at the break a goal up, a calm finish from Declan Mcstravick (main picture). The second half was pretty event but turned in the favour of Rangers once the influential Joe Tyson left the field through injury. Rangers became more dangerous and with 10 minutes to go, got their equalizer from a penalty. Vinnie Granato being fouled, Alfie Moulding calmly converting.  With just a few minutes remaining, Rangers made their possession count, with sub Cameron Liffen coming off the bench to finish from close range. An evenly balanced match that could have finished a draw, however Rangers dug deep to go the extra mile.
Ferndale Rodbourne 1                  Croft Junior Red 3           
Croft Juniors Red proved more clinical in front of goal than their opponents Ferndale Rodbourne YCFC as both teams created good chances during the match. A Croft penalty broke the deadlock during the first half to which they added a second before half time. Ferndale missed an opportunity to reduce the deficit when they had a penalty saved with Croft going on to increase their lead on the counter attack. A Brandon Page headed goal got Ferndale back into the game but despite putting the pressure on they failed to score again. Matty Connor was awarded Ferndale's Player of the Match for his involvement in most of Ferndale's promising attcking play, especially during the second half.
FC Chippenham Youth 5         Ferndale Rodbourne 1  (Thursday 28th April)
Ferndale's third match in five days saw them travel to FC Chippenham on Thursday evening. An evenly balanced first half in which both teams created chances ended with Chippenham scoring late on. Chippenham extended their lead through the second half as the pace of their attack began to create problems for Ferndale. Despite an energetic, intense Player of the Match performance from Ferndale's midfielder Callum Barrett Chippenham inflicted a 5-1 defeat in which Jack Legg scored Ferndale's only goal.
Ferndale Rodbourne 3             Swindon Supermarine L 4  (Tuesday 26th April)
Ferndale hosted Swindon Supermarine on Tuesday evening and played a part in a closely contested match that saw them narrowly defeated 3-4. After being denied the lead by some fine goalkeeping from Supermarine it was Ferndale who equalised twice during the first half. Supermarine opened up a two goal advantage during the second half and despite Ferndale rallying towards the end, they could only reduce the deficit by one. Max Duggan was named Ferndale's Player of the Match and goalscorers were Callum Barrett, Jacob Edwards-Brown and Dan Argrave.
Under 16 – Division 3
FC Calne 1                                         FC Calne Rovers 4
It was a Beversbrook derby on Sunday morning as FC Calne met FC Calne Rovers in an excellent match in terms of football ability and sportsmanship. FC Calne had the better of the first half, their best chance smacking off the crossbar, but it was the Rovers who took the lead shortly before half time, captain Kai Morgan running through from midfield to roll a shot low into the corner. The second half began with a wonderful double save from 'keeper Ben Gould to protect Rovers' lead, but from then on it was a different affair with Rovers adding three more to their total. Defender Kieran Alday out jumped the FC Calne keeper to make it 2-0, league top scorer Freddie Boase made it three with a rebounded effort from close range, and a 25 yard screamer from Sam Bryant scored Rovers' fourth – his first goal for the club. FC Calne did manage to grab a well worked consolation late on but the final score was in Rovers favour at 4-1.
Under 18 – Division 2
Wroughton Youth 2                 Highworth Town 3
Highworth ended their season on a high, snatching late goals to beat Wroughton Youth. Wroughton went into a 2:1 lead courtesy of goals from Jordan Lea and Callum Wilkinson, Adam Holmes replying for Town. The game looked like staying that way until 7 minutes from time. A 30 yard free kick from Danny Laken was fumbled into his own net by Oliver Bilsby. In the ascendency, Town kept pushing and eventually got the winner 5 minutes from time, when awarded a penalty, Henry Newman stepped up to convert past Bilsby.