The Semi-Finals of the NWYFL League Cup were played on Sunday 27th March. Thank-you to all the players and coaches – some great games and very close results! Also, thank-you to all the match officials, without whom the day would not be possible.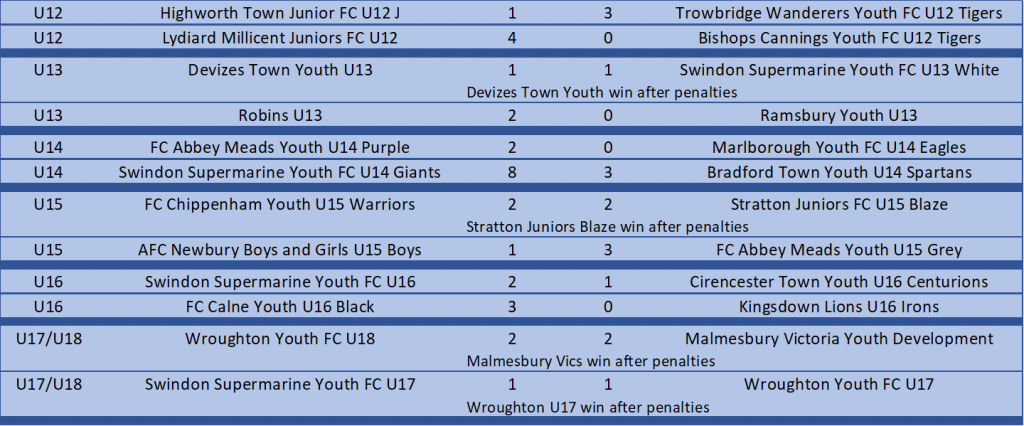 Congratulations to all the winning teams, who go on to play in the NWYFL League Cup Finals on the 14th & 15th May. Full details (including KO times) will be published and sent to team managers in the coming weeks. Commiserations to those teams that didn't make it to the Finals this season; reaching the Semi-Final of the League Cup is a significant achievement, and one which should be celebrated.

Thank you to Your Sport Swindon for once again providing fantastic coverage of all the matches. Please click here to visit their site, where subscribers can view highlights of all the games – including all the drama from the penalty shootouts!
.
The following games were also recorded using the League's VEO camera:
Swindon Supermarine Youth FC U17 v Wroughton Youth FC U17 
FC Abbey Meads Youth U14 Purple v Marlborough Youth FC U14 Eagles
AFC Newbury Boys and Girls U15 v FC Abbey Meads Youth U15 Grey
Highworth Town Junior FC U12 J v Trowbridge Wanderers Youth FC U12 Tigers
Match highlights and the full-game recording of these games can be viewed on the NWYFL YouTube channel: North Wilts Youth Football League – YouTube
The League are grateful to the staff at Beversbrook Sports Facility for the use of the wonderful facility at Calne along with the support they provide both before and on the day.
A final thanks to the volunteer League Committee members and to our admin provider, Julie for her fantastic continuous support and organisation.