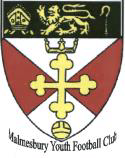 Malmesbury Youth FC invite you to their Annual Summer Football Tournament on 13-14 June 2020 at the Red Bull pitches in Malmesbury.
The tournament will be run as follows:
• Saturday 13 June: AM Under 9s and 13s; PM Under 7s, 11s and 15s
• Sunday 14 June: AM Under 10s and 12s; PM Under 8s and 14s
The entry fee will be £25 per team and the closing date for entries is 31 May. An 'early bird' discounted entry fee of £20 is available to those teams who enter and pay before 28 February.
Please see the invitation letter and entry form for further details:-